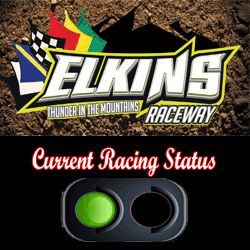 Cooler Policy: Coolers No Larger Than 16 Inches. Still, No Glass Bottles, Thank You!
Welcome to Elkins Raceways' Website
We will be providing as much updated information as possible throughout the season. Thank you for stopping by and hopefully we will see you at the track soon. The Elkins Raceway is a 3/8 mile racetrack in the wild and wonderful mountains of WV! Racing on Saturday night features Dirt Super Late Models, FASTRAK Crate Late Models, UMP Modifieds, Edge Hot Mods, Dirt Street Stocks,, and Mini-Wedges.

Located on US 219 north of Elkins at Kerens, WV!
Elkins Raceway News
4/16/2021
ELKINS RACEWAY READYING FOR 69TH ANNIVERSARY SEASON
Preparations have been underway for the next season of Saturday Night Thunder at Elkins Raceway since finishing 2020 last fall. The favorable early-spring weather has enabled staff to go "full speed ahead" for the upcoming summer racing year, in
hopes of being able to host weekly events every weekend again this season.  The track's annual "Test-N-Tune" night is scheduled for Saturday April 24, with gates opening at 5PM; practice will continue until 10 pm.  Opening Night is scheduled for the following Saturday, May 1, with pit gates opening at 4 pm, General Admission at 5; racing at 7:30.  The weekly divisions will remain the same; Super Late Models, Fastrak Crate Late Models, UMP Modifieds, EDGE Hot Mods, Street Stock, and Mini Mods Racing is scheduled for every Saturday evening throughout the summer, with special events to be announced dotting the calendar all season.
It's time to get out and again smell the racing fuel for the track's 69th Anniversary season. The staff, race teams & drivers, and fans are all ready to get going again, in full force.  The full schedule (which is subject to change) is listed on both the track's
website and Facebook page. Check the Facebook page for the earliest schedule change/update information.
Please be aware of any/all restrictions put in place by the local and state health departments regarding the Covid-19 pandemic, and follow instructions as much as possible and remember. Let's get out and go racing!!
Thanks, Jeff
                                                                                                                                                                                                  3/28/2021
The Elkins Raceway 2021 Schedule has been posted. Please keep an eye on the Facebook Page or the website schedule for changes to the upcoming race season. Also, Please continue to fill out the Announcer info sheet for Jimmy Henry. Looking forward to an awesome 2021 Racing Season.
2/24/2021
As we gear up for the 2021 Racing Season, our new announcer, Jimmy Henry has asked for your help to create a database of information to help him through our new season. Follow the link Here to fill out the announcer info sheet. Also the history from last year has been moved to a 2020 records menu. Stay tuned for updates on the website. Also Jeff Skidmore has benefit raffle tickets for the Jim Skidmore hog raffle. Be sure to contact him to get your tickets $5.00 for one or 6 tickets for $25. Their will be 2 winners on this raffle with each winning 1/2 of a hog.
10/9/2020
Our next event is our annual banquet honoring our top 10 in points. The banquet will be held at Beverly fire department on November 14. Ticket info can be obtained by calling Connie at the track office at 304/636/8661
9/20/2020
Elkins raceway will be racing this coming Saturday September 26!! The fall festival 40 $2000 to win lates $1000 crates $1000 mods Increased pay in street stock and hotmods For more info call the track office at 304/636/8661 Gates open at 4 hot laps 630
9/19/2020
Thank you to all the drivers and fans and everyone who took part in the Richard Skidmore & Red Frederick Memorial Race. Mother nature hindered us from the beginning but we finally got it done. The show wouldn't have been such a success without our amazing sponsors, drivers, staff and our amazing race fans. Thank you all once again.
9/17/2020
The fogged out Skidmore/Frederick Memorial Race is scheduled to be continued on Saturday September 19th. Gates open at 4:00p.m. Hot Laps will start at 6:30p.m. Remember to bring your arm bands.
7/21/2020
Cooler Policy: Coolers must not be bigger than 16 inches. All coolers are subject to inspection at the gate as we will not allow glass bottles in our facility. Thank you in advance.
7/5/2020
Hey Kids, be sure and bring your camera and your sharpie….get that upclose picture and autograph with your favorite driver this Saturday as we bring you the first picture and autograph night of the year. Gates open at 5:00p.m. Hot laps at 7:30p.m.
6/28/2020
4th Of July Special
Arm Bands From 27 June 2020 Will Be Honored Thru August 1st. Double Points In All Classes
$2000 to Win Super Late Models
$1000 to Win Crate Late Models
$1000 to Win UMP Modifieds
Increased Payout Hot Mods & Street Stocks
6/17/2020
Attention RACE FANS, general admission gates will be open this Saturday, June 20th at 5p.m. Masks are highly recommended with social distancing of 6 feet. Mini Wedge classes will also be ran this weekend. Thank you in advance for your cooperation.
6/11/2020
Attention RACE FANS, general admission gates will be open this Saturday, June 13th at 5p.m. Masks are highly recommended with social distancing of 6 feet. Mini Wedge classes will also be ran this weekend. Thank you in advance for your cooperation.
5/7/2020
For any questions about the rules on the mini mods at this time, please direct them to Jerry Nelson at (304)-918-8528. You may also look him up at the track. Thank you Elkins Raceway Management.
2/29/2020
Elkins Raceway is getting ready to feel the Thunder in the Mountains. (Kerens, W.V. 03-01-20) The Elkins Raceway is preparing for the 2020 racing season. After last year's record setting 18-week races, the 3/8ths mile dirt oval looks to keep the momentum going in the new year. Switching to Saturday nights the Kerens facility will again feature Dirt Super Late Models, Fastrak Late Models, UMP Modifieds, Street Stocks, Edge Hot Mods, and Mini Mods. Although final work is still being done on the 2020 schedule, expect an action-packed slate including the Skidmore and Fredrick Memorials' for Super Late Models! Elkins Raceway is also proud to announce the 2020 sponsors, West Virginia Pools, Mountaineer Insurance (Kids Club), Budweiser, Ramsey Welding, TKS Contracting, Jenkins Ford, and High Point Construction. Gates open each Saturday at 6:00 with hot laps starting at 7:30. Keep updated on the information go to www.elkinsraceway.com Or like us on facebook. Come feel Thunder in the Mountains!
Thanks, Jeff
The staff at Elkins Raceway would like to thank our sponsors, teams, and fans for their continued support for the 2021 racing season.
We are all grateful to have your support for the 2021 Racing Season. The Following are the current 2021 Elkins Raceway Sponsors. If you would like to become one of the Elkins Raceway Sponsors please contact us.
2021 Sponsors:
Bladenode.com
Middletown Tractor Sales
Thank You Once Again For Your Support!